Create Your Experience
With over 450 team members at Michigan First, everyone comes to us with different backgrounds, career goals, and experiences. When you join our team, the benefits and opportunities we provide are tailored to you and your goals.
Whether it's providing health insurance for your family, continuing your education, growing in your career, finding a supportive team, or one of many things we have helped team members accomplish — Michigan First is here to provide the opportunity for you to create an experience that fits your needs.
Benefits
We provide extremely affordable health and vision insurance through Blue Cross Blue Shield of Michigan, as well as Delta Dental coverage for all of your dental needs. You will also receive Life Insurance benefits as well as short-term and long-term disability coverage.
Compensation
Our team frequently reviews salary ranges to ensure competitive wages and we provide yearly performance evaluations that have potential merit increases. All team members will become eligible for our 401(k) program with employer matching up to 5%. Each year, a portion of the credit union's annual revenue is also set aside for profit sharing among eligible team members.
Training Opportunities
Enhance your public speaking skills with our Speak Easy Club, grow your career through online training programs, participate in mentoring programs, pursue certifications, and improve your leadership skills with leadership training.
Tuition Reimbursement
Michigan First was founded by educators and we understand the importance of continuing education in helping you advance in your career. As a member of our team, we help you pay tuition for degree programs at accredited colleges and universities.
Headquarters Amenities
Take advantage of our headquarters building, which includes a state-of-the-art fitness center, a cafeteria, coffee café, and bowling center. We also provide a free concierge service for when you need assistance running an errand or accomplishing something on your to-do list.
Our Stories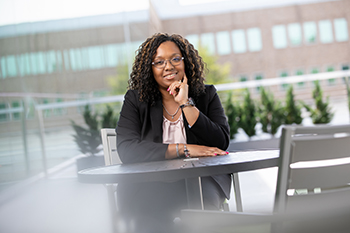 Lonnie, Chief Operations Officer
After starting as a business banking representative, Lonnie was promoted to several leadership positions — most recently to Chief Operations Officer.
---
Brett, Senior Training and Development Specialist
Empowered by Michigan First's dedication to growth, Brett leads a training team that doesn't just give you the tools for the job, but helps you excel no matter your pursuit.